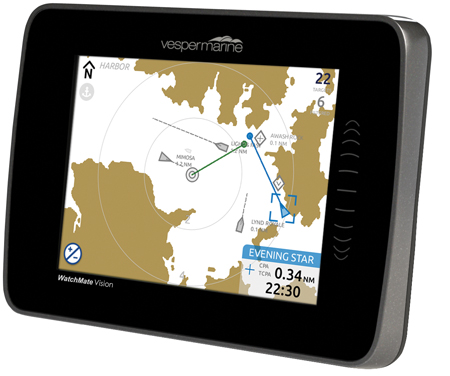 WATCHMATE VISION 2 CLASS B AIS NMEA 2000, USB, WIFI, BUILT IN GPS ANTENNA
For the Class B Programming Form, click here!

Brand:

Vesper Marine Inc
Part Number:

VSP-XB9010
HM Order #: 767679
Vesper Marine WatchMate Vision 2 smartAIS Touchscreen Transponder with WiFi and NMEA 2000 Gateway

The Vesper Marine WatchMate Vision 2, a large 5.7 inch, bright color touchscreen transponder is a fully standalone transponder loaded with smartAIS features including the deckWatch smartwatch app.

Complete Class B AIS Transponder
WatchMate Vision 2 is a Class B AIS transponder with a two-channel parallel receiver and transmitter. It transmits your vessel position and details and receives the same kind of information from other vessels with AIS transponders.

The AIS data is sent every few seconds and includes information such as course, speed, latitude, longitude, and heading. Static information about the vessel is sent every few minutes and includes the name, type of vessel, length, beam, draft, etc.

Safety for your Crew. If someone is washed overboard, smart AIS not only alerts you, it also provides their location so you can pick them up quickly. ADDITIONAL EQUIPMENT REQUIRED. *D*
*Product images are for illustration purposes only and may not be an exact representation of the item. Please refer to item description.