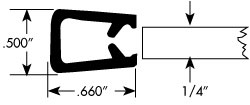 TRIM QUICKEDGE WHITE SOFTONE ALUM CORE
Brand:
Part Number:

STP-75001621
HM Order #: 143296
Stanpro Marine Quickedge Trim, Vinyl with Aluminum Core, for 3/16" - 1/4" Edges, Sof-Tone White. Flexible, basketweave design. Up to 125' lengths. Sold by the foot.
*Product images are for illustration purposes only and may not be an exact representation of the item. Please refer to item description.