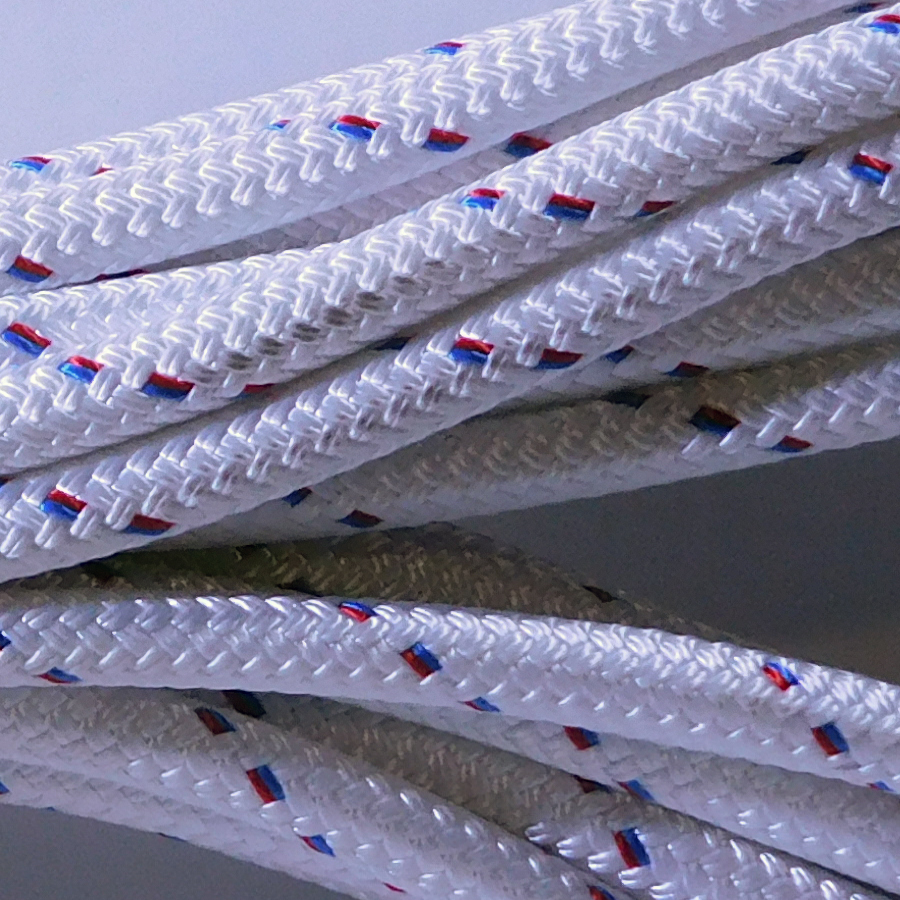 T-900 ROPE (WHITE, WHITE GREEN FLECK, WHITE BLUE FLECK,WHITE RED FLECK)
T-900, A low Stretch and Low Creep Main Halyard line. Features a pioneering blend of Dyneema(R) and Technora(R) core with a durable polyester jacket. A combination of high strength, low weight plus low creep. An excellent choice for static loads. A more economical option to V-100.

BEST USED FOR: Halyards and guys.

WHAT IS IT MADE OF: HMPE( High Modulus PolyethylenE), Technora, Polyester.

BREAKING STRENGTH:
1/4inch 6mm = 4,700lbs, 5/16inch 8mm = 6,800lbs, 3/8inch 10mm = 11,000lbs, 7/16inch 11mm = 14,300lbs, 1/2inch 12mm = 15,700lbs, 9/16inch 14mm = 21,750lbs,
5/8inch 16mm = 29,800lbs, 3/4inch 18mm = 35,000lbs, 13/16inch 20mm = 48,000lbs,
7/8inch 22mm = 58,000lbs, 1inch 24mm = 64,840lbs, 1 1/32inch 26mm = 74,300lbs.