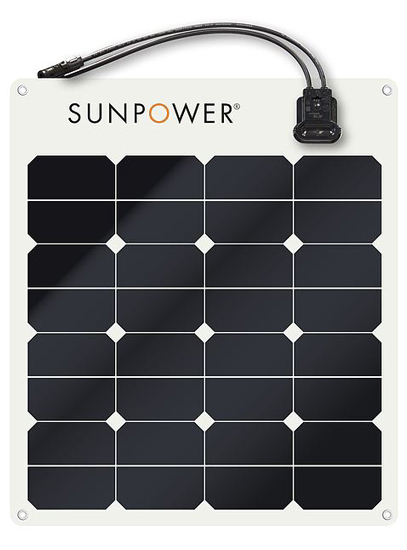 SUNPOWER E-FLEX SOLAR PANEL 50W
Brand:
Part Number:

SPR-EFLEX-50
HM Order #: 776716
This 50Watt flexible panel is perfect for smaller boats or to trickle charge your batteries when not aboard. Made with SunPower 23% efficiency Gen II prime back contact cells, SunPower flexible panels deliver the highest power output and the highest charging capacity in their product class. SunPower panels are constructed with top-grade, lightweight polymer materials, allowing for easy transport, installation and panel flexing up to 30 degrees.
Dimensions: 25.5"(L) x 21.9"(W) x 0.1"(H) (0.8" including J-Box)
PRODUCT DETAIL:
Weight: 2.4lbs - Lightweight, Portable & Easy to Stow
Rated Voltage (Vmpp) 17.7V | Rated Current (Impp) 2.8A - Powerful
Flexible up to 30 degrees - Suitable for Irregular Surfaces
32 High efficiency (23%) monocrystalline Maxeon0 Gen II prime solar cells - More Power in Less Space
Premium cosmetic quality
Junction box with by-pass diode has IP67 protection- Robust Design, Water & Dust Proof!

17.7" long cables (12AWG) with PV4-S connectors (MC4 compatible) - Reliable & Safe with IP68 Protection

4 x 316 Stainless steel grommets - Diverse
*Product images are for illustration purposes only and may not be an exact representation of the item. Please refer to item description.