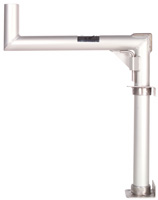 SEAT PEDESTAL SWING AWAY ALUMINUM 34.5" HIGH.WEIGHT CAPACITY OF 250LBS.

Brand:
Part Number:

HM-SB
HM Order #: 145694
P&E Seat Post, Anodized aluminum, 34.5" Height, Swing-away style. The Swing radius for this post is 24.5" and it is only 5.5" wide when swivelled aside giving you more open floor space. Accepts any standard 2 7/8" seat mount. Stainless mounting brackets with nylon bushings provide smooth and quiet swivel action. Extra outside brace provides security in rough seas.
Maximum weight limit is 250lbs.
*Product images are for illustration purposes only and may not be an exact representation of the item. Please refer to item description.