SEAHAWK CUKOTE ABLATIVE ANTIFOULING PAINT (QT OR GL)
Cukote's high loading of cuprous oxide makes this formulation a top performer, even in the most severe fouling areas. As an ablative, self-polishing coating, there is no buildup of bottom paint over time. Your hull's underwater surface remains smooth and clean. Cukote copolymer can also withstand removal from water without affecting its antifouling properties. Cukote is the premium self-polishing antifouling paint that has established the standard in the industry. - Self Polishing Ablative with Multi-Season Performance on Both Pleasure Craft, Coastal and Deep Sea Vessels - Harder Ablative Finish Makes Cukote Ideal for Fast Moving Vessels including: Pleasure Craft Power Boats, High Speed Transports, etc.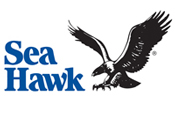 *Product images are for illustration purposes only and may not be an exact representation of the item. Please refer to item description.