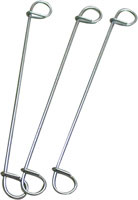 SCALLOP BAG TIES (LB OR 4LB BUNDLE)
Scallop bag ties. Metal. To be used with the scallop tie twister on the scallop bags.

*Product images are for illustration purposes only and may not be an exact representation of the item. Please refer to item description.

Denotes a non-stock item. These items are not regularly stocked in our store locations and may require extra time to arrive from our supplier(s) and incur incoming freight.