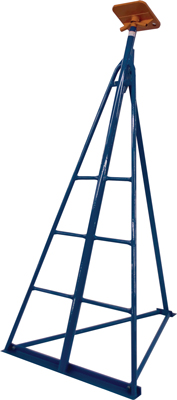 SAILBOAT STAND FOLDING MAXI WITH TOP
Brownell Boat Stand, Steel, Folding Sailboat stand, includes base and flat top, base painted blue with integrated ladder. Sailboat stands feature a 23 degree angled center pipe with a 20 degree swivel flat top or fixed vee topand a unique stacking design. A pair of stands is required for every 8 feet of boat length. A minimum of four stands are required for motorboats and five for sailboats. Products are oversized and additional freight charges may apply.

*Product images are for illustration purposes only and may not be an exact representation of the item. Please refer to item description.

Denotes a non-stock item. These items are not regularly stocked in our store locations and may require extra time to arrive from our supplier(s) and incur incoming freight.