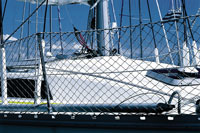 SAFETY NETTING 1.6" DIAMOND MESH
Nylon Safety Netting. Keep children, pets, crew and gear on board with diamond mesh nylon safety netting. Reinforced top and bottom selvages. For a professional, easy installation, use netting clips (one bag of 50 clips for each 5' of netting installed.)

HOW TO MEASURE: Determine the height of your installation.

Select multiplier.
12-16 = 1.1
18-20 = 1.2
22 = 1.3
24 = 1.4,
26 = 1.5
28 = 1.7

Multiply the length of your installation by the multiplier.
Add 10% for error. This will equal the amount of netting to purchase.

Example: 19H x 22'L (22' x 1.2) = 26.4 + 2. 6' (10%error factor)=29' of netting.

*Product images are for illustration purposes only and may not be an exact representation of the item. Please refer to item description.

Denotes a non-stock item. These items are not regularly stocked in our store locations and may require extra time to arrive from our supplier(s) and incur incoming freight.