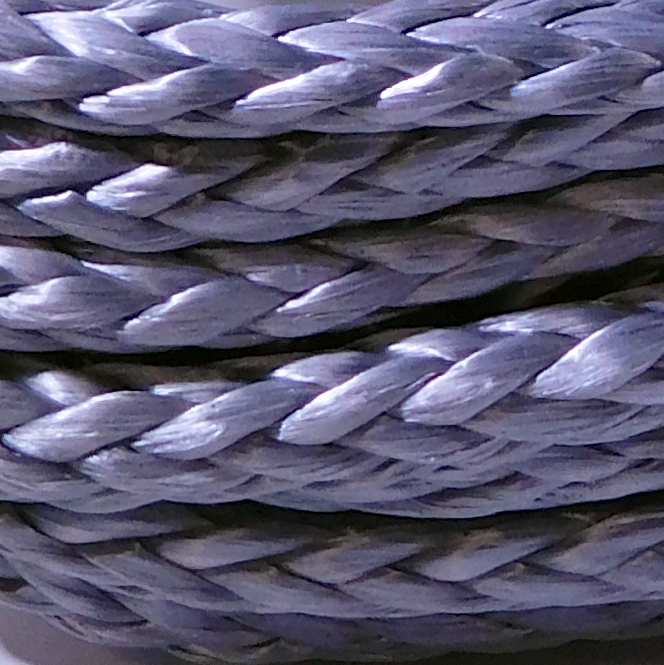 ROPE STS-HSR
STS-HSR ropes are constructed using a precisely controlled process which utilizes the ideal balance of temperature and tensioning thanks to uniform tension, uniform heating, and the minimized rotation of the rope during the entire heat-setting process. The process of making this rope takes full advantage of the creep-ability of HMPE ropes' shorter fibers which allows longer fibers to bear some of the load thereby creating a load that is much more balanced. On a microscopic level, the process straightens molecular chains for higher specific tensile properties.

WHAT IS IT MADE OF: HMPE(High Modulus Polyethylene.

BREAKING STRENGTH:
1/8inch 3mm = 5,200lbs, 3/16inch 5mm = 9,475lbs, 1/4inch 6mm = 12,385lbs, 9/32inch 7mm = 18,700lbs, 5/16inch 8mm = 23,600lbs, 3/8inch 10mm = 26,5858lbs,
7/16inc 11mm = 31,530lbs, 1/2inch 12mm = 43,675lbs, 9/16inch 14mm = 55,770lbs,
5/8inch 16mm = 65950lbs, 3/4inch 18mm = 86,350lbs, 13/16inch 20mm = 103,650lbs,
7/8inch 22mm = 112,790lbs, 1inch 24mm = 130,900lbs.
*Product images are for illustration purposes only and may not be an exact representation of the item. Please refer to item description.

Denotes a non-stock item. These items are not regularly stocked in our store locations and may require extra time to arrive from our supplier(s) and incur incoming freight.