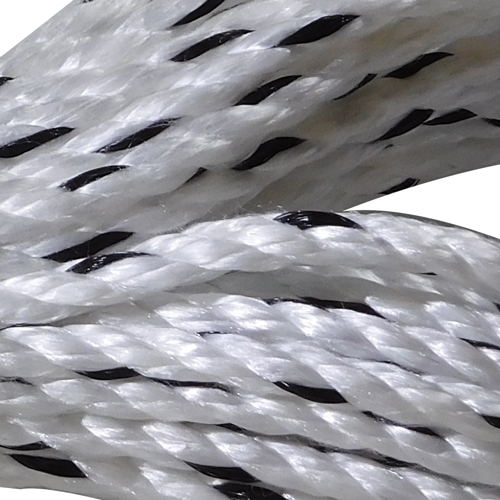 ROPE PRODAC 3-STRAND
PRODAC 3-STRAND.A value composite rope with an abrasion resistant polyester cover over a polypropylene core. White with one black tracer in diameters up to 3/4". Two black tracers in diameters above 3/4".

BREAKING STRENGTH:
1/4inch 6mm = 1454lbs, 5/16inch 8mm = 2,198lbs, 3/8inch 10mm = 2,919lbs, 7/16inch 11mm = 4,024lbs, 1/2inch 12mm = 4,682lbs, 5/8inch 16mm = 7,997lbs, 3/4inch 18mm = 10,791lbs, 7/8inch 22mm = 14,711lbs, 1inch 24mm = 16,490lbs, 1 1/4inch 30mm = 24,899lbs, 1 1/2inch 36mm = 35,677lbs, 2inch 48mm = 56,152lbs,
2 1/4inch 56mm = 69,146lbs, 2 1/2inch 60mm = 86,776lbs, 2 5/8inch 64mm = 92,729lbs
3inch 72mm = 120,891lbs, 4inch 96mm = 200,340lbs.
*Product images are for illustration purposes only and may not be an exact representation of the item. Please refer to item description.

Denotes a non-stock item. These items are not regularly stocked in our store locations and may require extra time to arrive from our supplier(s) and incur incoming freight.