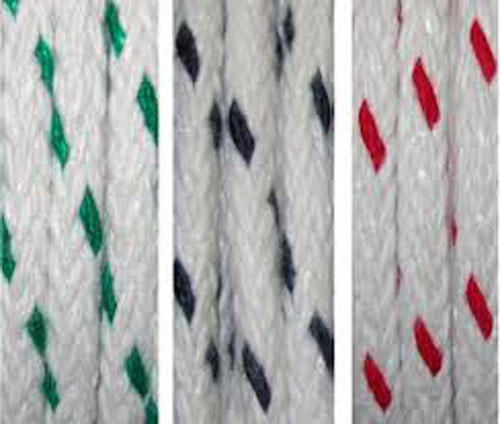 ROPE PhD RACER 12 STRAND
Ph.D. is different than any rope you've used or seen before. It feels like fuzzy polyester but performs like 100% Ultra High Molecular Weight Polyethylene (UHMWPE). Ph.D. securely grips in your hands and on winch surfaces to give you safe and deliberate handling, yet it glides through blocks like a dream, with virtually no stretch.

"Ph.D. is light and grippy, perfect for the mainsheet on my foiling Moth, where every ounce counts. Yet it's strong and secure enough for the mainsheet on my 44' performance racer/cruiser."

--Jonathan McKee, two-time Olympic Medalist, seven-time World Champion
Grips in your hands comfortably, making sheets easier to grab, hold, adjust, and control. No more wrestling with hard, wiry ropes.
Grips winch surfaces securely, so you can use fewer wraps to control loads more easily; release more smoothly and cleanly; and minimize slipping, catching, and stuttering.
Grips and holds highly loaded knots and hitches.
Glides through blocks faster and more smoothly for more effective trimming, tacking, and gybing. Ph.D. even glides around shrouds and other high-friction areas more easily than standard sheets. Enables much smoother A-sail gybes.
Glides when released without kinking or hockling. There's no bulky core-and-jacket combo to hold a show-stopping twist!
Splices quickly and easily-- in under 3 minutes... honest.
Ph.D.'s exceedingly strong UHMWPE fiber manages high loads, while Yale iGrip-treated outer polyester fibers make it easy and comfortable to handle and grip.
The key to this 12-strand single-braid's superior combination of performance, handling, and strength is in its unique base-strand construction: Super-strong UHMWPE fibers are pre-stretched, bundled, and then encapsulated in sleeves of Yale iGrip, Yale's proprietary fiber coating process, which dramatically improves grip on winches and in your hands.

"Four years in development, Ph.D. delivers true game-changing performance." Thanks to the innovative engineering team at Yale Cordage, the old-fashioned, bulky double-braided core-and-jacket combo has evolved into a silky-smooth high performance line.

Get your Ph.D. from Yale Cordage and make an intelligent investment in your performance.

| | | | | | | | |
| --- | --- | --- | --- | --- | --- | --- | --- |
|   | Description | Item | HM ORDER# | Status | Price | | qty to buy |
| | ROPE Ph. D RACER 12 STRAND WHITE 7/16"X 50' | BRYHPRW1044050 | 773261 | 1 | $52.99 | / EA | |
| | ROPE Ph. D RACER 12 STRAND WHITE W/BLACK 7/16"X30' | BRYHPRW2044030 | 772626 | 1 | $31.99 | / EA | |
| | ROPE Ph. D RACER 12 STRAND WHITE W/BLUE 5/16"X30' | BRYHPRW3031030 | 771813 | 1 | $24.99 | / EA | |
| | ROPE Ph. D RACER 12 STRAND WHITE W/BLUE 3/8"X30' | BRYHPRW3038030 | 775408 | 1 | $28.99 | / EA | |
| | ROPE Ph. D RACER 12 STRAND WHITE W/GREEN 1/4"X30' | BRYHPRW5025030 | 775465 | 1 | $21.99 | / EA | |
| | ROPE Ph. D RACER 12 STRAND WHITE W/RED 5/16"X30' | BRYHPRW9031030 | 775410 | 1 | $24.99 | / EA | |