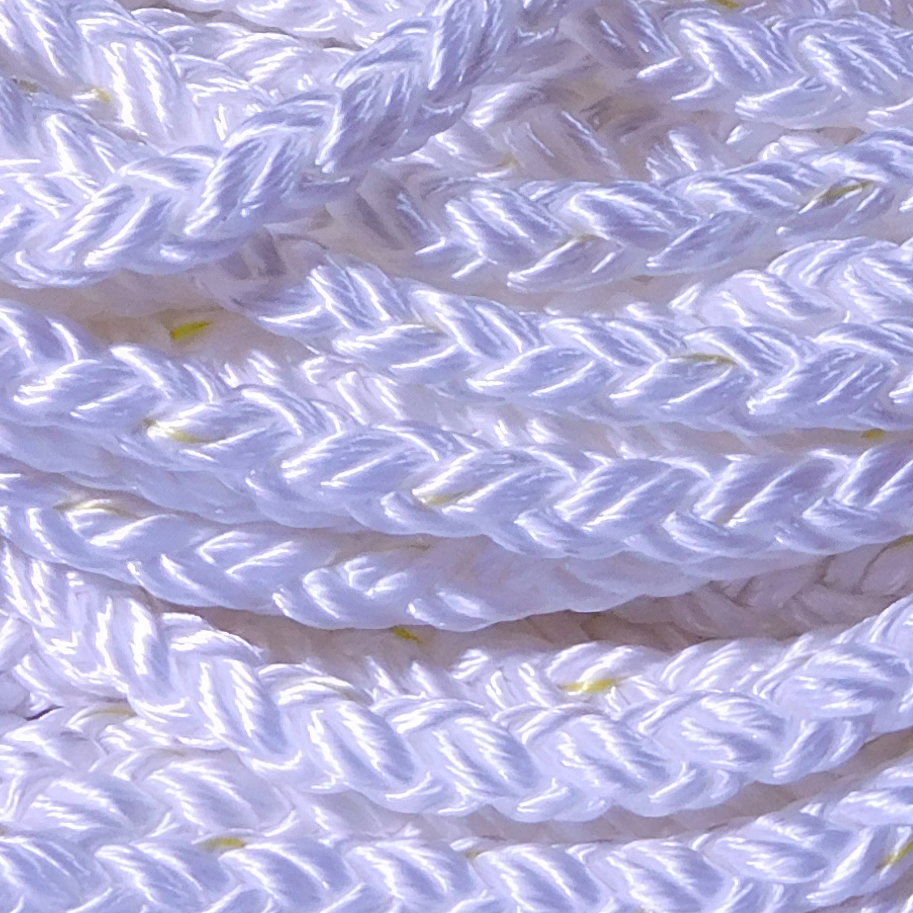 ROPE NYLON BRAIT 8-STRAND
Nylon Brait 8-Strand Rope. combines braiding technology with plaited rope optimizing the best of both rope styles. Nylon Brait's most outstanding feature is its high energy absorption, which comes from a combination of the very long yarn path required to make a plaited rope, and stranditure developed especially to maximize energy absorption. Nylon Brait can absorb (or mitigate) greater amounts of dynamic energy than 3-stranded or braided rope structures with less damage. Brait's energy absorption also keeps the corresponding loads on attachment points smaller since the rope does more work internally. Brait is spliced easily and the spliced rope delivers 100% of the ropes advertised strength.

BREAKING STRENGTH:
3/8inch 10mm = 3,600lbs, 1/2inch 13mm = 7,470lbs, 17/32inch 13mm =
8,280lbs,
5/8inch 16mm = 10,980lbs, 21/32inch 17mm = 11,610lbs, 11/16inch 17mm = 13,500lbs
3/4inch 19mm = 15,300lbs, 7/8inch 22mm = 19,800lbs, 1inch 25mm = 24,300lbs, 1 1/8inch 29mm = 31,275lbs, 1 1/4inch 32mm = 36,450lbs, 1 1/2inch 38mm = 51,030lbs
1 5/8inch 41mm = 60,930lbs, 1 3/4inch 44mm = 76,230lbs.

*Product images are for illustration purposes only and may not be an exact representation of the item. Please refer to item description.

Denotes a non-stock item. These items are not regularly stocked in our store locations and may require extra time to arrive from our supplier(s) and incur incoming freight.