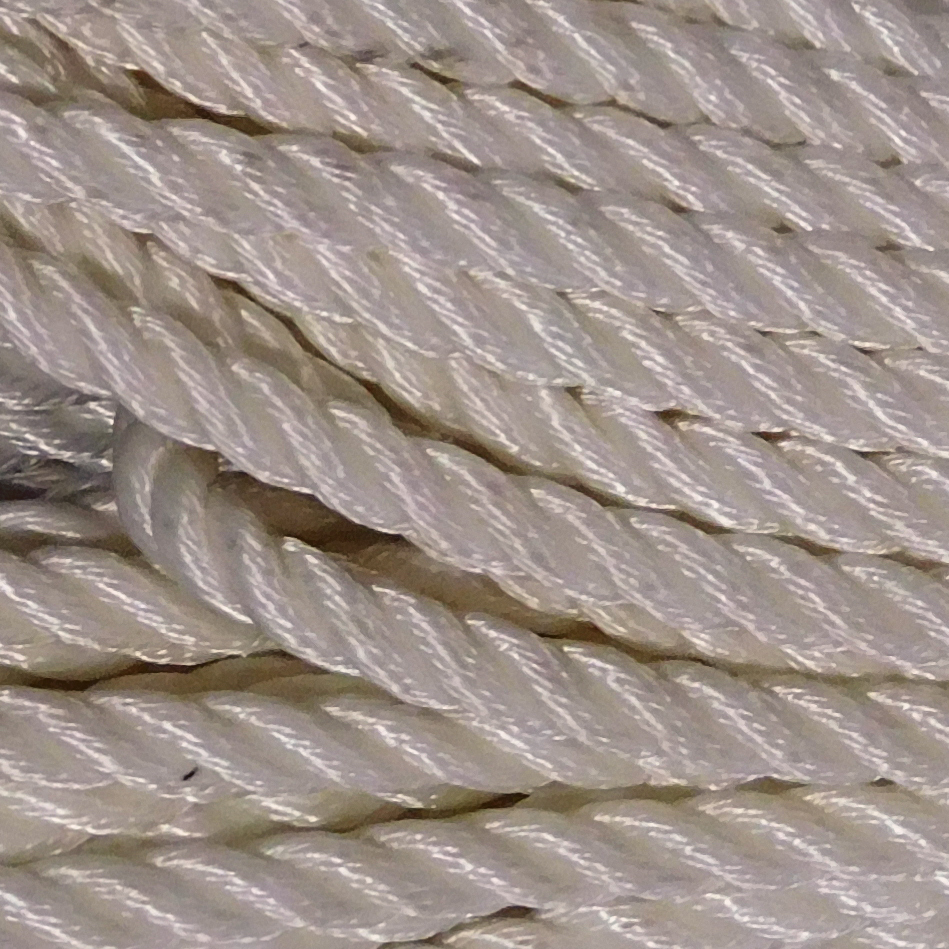 ROPE INDUSTRIAL 100% NYLON
Industrial 100% Nylon. High quality 100% nylon ropes for industrial use. All sizes above 5/16" diameter utilize plied yarns manufactured in a four stage process. Nylon filament is steam heat set prior to twisting to reduce rope shrinkage in the field. Nylon has the highest stretch, strength, and shock absorbency of any synthetic rope.

BREAKING STRENGTH:
3/16inch 5mm = 1,200lbs, 1/4inch 6mm = 1,805lbs, 5/16inch 8mm = 2,730lbs, 3/8inch 10mm = 3,795lbs, 7/16inch 11mm = 5,380lbs, 1/2inch 12mm = 7,510lbs, 5/8inch 16mm = 11,210lbs, 3/4inch 18mm = 14,350lbs, 7/8inch 22mm = 23,470lbs,
1inch 24mm = 32,065lbs, 1 1/8inch 28mm = 39,700lbs, 1 1/4inch 30mm = 40,312lbs,
1 1/2inch 36mm = 51,225lbs, 1 5/8inch 40mm = 65,980lbs, 1 3/4inch 44mm = 83,450lbs
2inch 48mm = 108,200lbs, 2 1/4inch 56mm = 128,520lbs, 2 1/2inch 60mm = 157,650lbs,
2 5/8inch 64mm = 181,300lbs, 3inch 72mm = 204,300lbs, 4inch 96mm = 340,000lbs.
*Product images are for illustration purposes only and may not be an exact representation of the item. Please refer to item description.

Denotes a non-stock item. These items are not regularly stocked in our store locations and may require extra time to arrive from our supplier(s) and incur incoming freight.