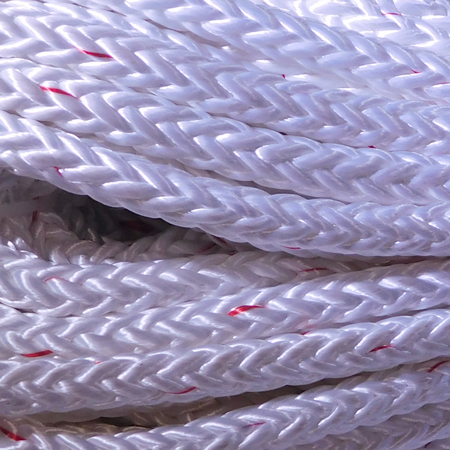 POLYPROPYLENE WRAPPED INSIDE HIGH TENACITY POLYESTER BULL ROPE
Polypropylene wrapped inside high tenacity polyester 12-strand bull rope that has a unique construction. The result is a firm, round, torque-free rope with excellent abrasion and snag resistance that is ideally suited for lifting and handline applications. This rope features high strength to size ratio (wet and dry), non-rotating, very good abrasion resistance, easily spliced and stays firm and round. Is great for hand lines, tie downs and heaving lines.

BREAKING STRENGTH:
1/4inch 6mm = 2,500lbs, 5/16inch 8mm = 4,150lbs, 3/8inch 9mm = 5,060lbs, 7/16inch 11mm = 6,350lbs, 1/2inch 12mm = 8,300lbs, 9/16inch 14mm = 10,400lbs,
5/8inch 16mm = 12,080lbs, 3/4inch 18mm = 16,460lbs, 7/8inch 22mm = 17,405lbs,
1inch 24mm = 19,425lbs, 1 1/8inch 28mm = 21,600lbs.