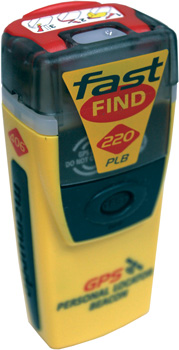 PERSONAL LOCATOR BEACON 406 FASTFIND 220 WITH GPS

Brand:
Part Number:

PW-406-220PLB
HM Order #: 748833
MCMURDO FAST FIND 220 PERSONAL LOCATOR BEACON. Lifesaving distress beacon designed for marine enthusiasts and adventurers. It packs advanced technology into a simple, lightweight, palm sized unit. Using the dedicated 406MHz frequency, the Fast Find 220 transmits your unique ID and precise GPS location to the global network of search and rescue satellites. Within minutes rescuers are alerted to your situation, and receive regular position updates. Finally, emergency services can home in on your beacon's 121. 5MHz transmission to find you. Floats with buoyancy pouch. 6 year battery life. Waterproof to 32ft. SOS morse LED flashlight. Safe-stow antenna. No subscription needed.
*Product images are for illustration purposes only and may not be an exact representation of the item. Please refer to item description.