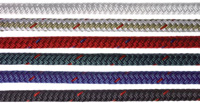 NEW ENGLAND ROPES NYLON DOUBLE BRAID DOCKLINE 3/8" X 20' HUNTER GREEN
Brand:
Part Number:

NE-DB3820G
HM Order #: 160249
Dock Lines, Double Braid Nylon New England Ropes, 3/8 x 20', Green. Strong, durable and easy to handle. The combination of high-grade marine nylon, special torque-balanced construction, and a unique stabilization process produces a long-wearing, easy-to-handle line that resists kinking. Our Double Braid line offers controlled elongation and excellent abrasion resistance. This popular dock-and-anchor line is available in a wide choice of colors, including white, white/gold, red, teal, blue and black.
*Product images are for illustration purposes only and may not be an exact representation of the item. Please refer to item description.