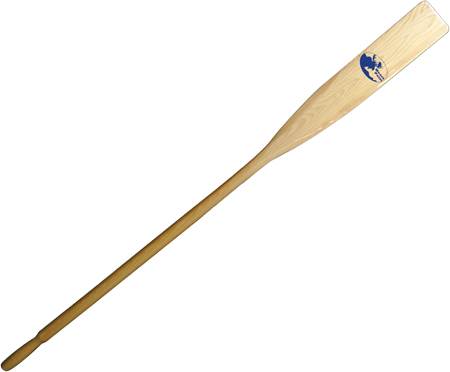 MOOSE POINT OAR CANADIAN SPRUCE LAMINATED VARNISHED (EACH)
Moose Point Laminated Varnished Spruce Oars. These beautifully crafted, lightweight but strong oars are made from knot-free Eastern Canadian Spruce. The shaft is large (1-1/2" diameter) and round for added strength and the cross grain laminated blade is finely sculpted for maximum efficiency with a sleek good look. The oar is sealed, re-sanded and varnished. This is by far our best selling oar because customers recognize its value immediately: it looks expensive but isn't. Oars are sold by the each. Note: 9' oars must be shipped FedEx Saver or Truck.

"Instead of walking, I row a few miles most mornings in my 10' Puffin. The Moose Point is one of the best-performing, lightweight oars I've ever
used."
-Wayne Hamilton

We recommend oar leathers to protect the finish (HM Order# 126962)
1-1/2" Diameter shaft.
A general rule of thumb to determine oar length is 1-1/2 times the beam of the boat.
*Product images are for illustration purposes only and may not be an exact representation of the item. Please refer to item description.

Denotes a non-stock item. These items are not regularly stocked in our store locations and may require extra time to arrive from our supplier(s) and incur incoming freight.