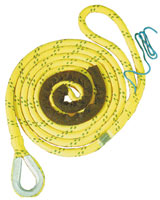 MOORING PENDANT ESTERLON GALV THIMBLE
Made with Double Esterlon which is a double-braided rope constructed of premium over finish polyester fiber in both the sleeve and core with Maxijacket urethane coating to further enhance the rope's wear resistance. It offers low stretch, high dielectric strength, excellent wear life and also yields the highest-strength double braid polyester available. The pendants come professionally pre-spliced with a heavy-duty galvanized thimble on the anchor end, and an eye on the boat side. Each pendant comes with chafe guard, a spliced-in choke line, and a serial number. The best pendant and least expensive insurance we know of.
*Product images are for illustration purposes only and may not be an exact representation of the item. Please refer to item description.

Denotes a non-stock item. These items are not regularly stocked in our store locations and may require extra time to arrive from our supplier(s) and incur incoming freight.