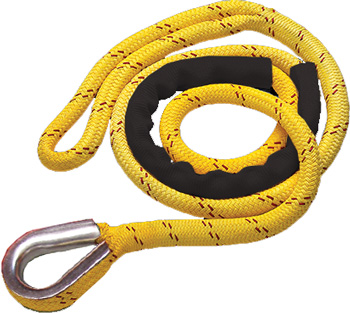 MOORING PENDANT DBL BRAID NYLON POLYESTER
Poly/Nylon mooring pendants combine the strength and elasticity of nylon in the core with tough, durable abrasion resistant polyester in the cover. Poly/Nylon mooring pendants come standard with a thick yellow-tinted marine-tech coating that improves abrasion resistance and enhances visibility. Each pendant has a factory-spliced heavy duty stainless steel thimble on the buoy end and a professionally spliced soft eye on the boat end. Poly/Nylon mooring pendants have a durable Cordura chafe sleeve.
*Product images are for illustration purposes only and may not be an exact representation of the item. Please refer to item description.

Denotes a non-stock item. These items are not regularly stocked in our store locations and may require extra time to arrive from our supplier(s) and incur incoming freight.