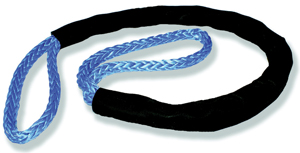 MOORING PENDANT CYCLONE ENDURA 12 BRAID
Made from New England Rope's Endura-12 rope, which uses the latest Dyneema fiber, resulting in a pennant that has extremely high tensile strength and ultra low elongation. When coupled with a nylon-mooring pennant, the cyclone pennant configuration provides the low stretch and abrasion resistances where you need it, at the chock; and stretch where you need it, in the standing part of the rope. By eliminating friction at the chock it reduces heat-generated failures. While stretch in the standing part of the rope provides shock absorption to protect your hardware. The added benefits of the Cyclone are that Endura-12 is very flexible, light weight, does not absorb water, and floats; thus making it easier for your crew to retrieve and secure the mooring.
*Product images are for illustration purposes only and may not be an exact representation of the item. Please refer to item description.

Denotes a non-stock item. These items are not regularly stocked in our store locations and may require extra time to arrive from our supplier(s) and incur incoming freight.