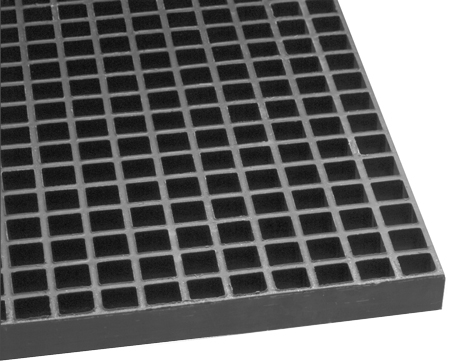 MOLDED FIBERGLASS GRATE NS GRAY
Quantity Available:

In Stock
Part Number:

SGW-DURAGRATE1
HM Order #: 761254
DURAGRATE molded fiberglass grating is a premium-quality mesh grating panel made exclusively in the U.S.A. While molded grating is a chemical resistant flooring choice for many industrial applications, DURAGRATE offers performance and quality superior to imported suppliers. Color is gray. Integral cover bonded to the top surface with a slip resistant grit
surface.

Features:

Corrosion Resistant
Easy To Fabricate
Fire Retardant
Impact Resistant
Low in Maintenance
Low in Conductivity
Lightweight
Bidirectional Load Bearing
Easy To Install
Cost Effective
Uniform in Appearance
The Only Molded Grating Made Exclusively in the U.S.A.