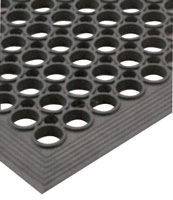 MAT TEK TOUGH JR BLACK 1/2"X3'X5'W/BEVELED EDGE
Brand:
Part Number:

TKA-436931
HM Order #: 134697
Tek-Tough heavy duty anti-fatigue mat. 1/2 thick, 3' x 5'. * Non-Tracking formulation * Excellent drainage * Improved wear resistance * Less creep and movement * Easier handling * Outstanding comfort OVERSIZE! This item exceeds standard freight size limits. Additional shipping charges may be applied to your order at time of
*Product images are for illustration purposes only and may not be an exact representation of the item. Please refer to item description.