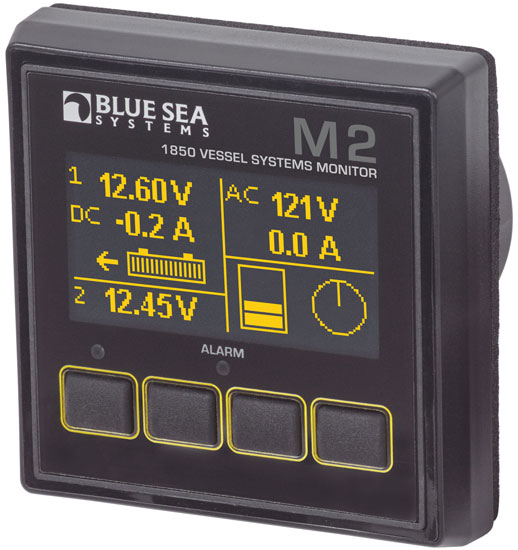 BLUE SEA 1850 M2 VESSEL MONITOR SYSTEM VSM
Brand:

Blue Sea Systems
Part Number:

BLS-1850
HM Order #: 770168
Performs comprehensive monitoring of four critical systems in one compact organic LED digital monitor

DC System Monitoring (up to two batteries)
One input monitors the DC voltage, state-of-charge, current for one battery bank and another input monitors the voltage of an additional battery bank. Alarms include high and low voltage, high current, and low battery.

AC System Monitoring
The VSM monitors a single AC voltage, current, and frequency. Alarms include high and low voltage, high current, and high and low frequency.
Bilge & Tank Monitoring
The VSM has two inputs that can be configured as a bilge or tank monitor. When configured as a bilge input, monitoring functions include pump active, cycle count in the last 24-hours, average cycles in a typical 24-hour period, and total cycles. High alarms can be set for both the minutes of run time in the last hour as well as the number or cycle counts in the last 24-hours. When configured as a tank input, tank status can be represented in both capacity (gallons or liters) or as a percentage of capacity. Custom tank shapes can be auto-calibrated or programmed. Both high and low level alarms can be set for all tanks.

NMEA 2000 certified and uses standard connectors. This allows a single network backbone to be installed for multiple NMEA 2000 devices. The m2 VSM can sahre certain monitoring fuctions with other NMEA 2000 compliant screens, such as CZone Displays Touch 5 & Touch 10.
*Product images are for illustration purposes only and may not be an exact representation of the item. Please refer to item description.