ORION ELECTRONIC SOS BEACON LOCATOR KIT WITH USCG DISTRESS FLAG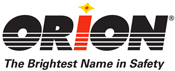 Brand:

Orion Safety
Part Number:

OLI-547
HM Order #: 764242
USCG compliant nighttime visual distress signal.
Flashes bright SOS distress signal in morse code
Uses 2 each D-cell batteries (not included)
Microprocessor provides an even light source for an extended period of time Intuitive ON/OFF switch
Visible for 3 nautical miles
Low battery indicator function (category exclusive feature)
High impact ABS plastic, International orange
Use as a hand held, floating or hanging safety signal with provided lanyard SOLAS grade reflective tape for a full 360 deg. sighting (category exclusive feature)
Floats and is completely waterproof
I bought this product to compare it to the Sirius Signal product and remain deeply disappointed in the performance of both as alternatives to flares. There is no way I would get rid of my flares and trust my life to any of these products. The SOS signal is only recognizabe if the product is held perfectly still and the observer is in line with the thin horizontal beam. If these products are floating on the slightest wave the the signal is just a weak random flashing light. This product has 2 D batteries that rattle around inside. I kept it in my dinghy and when motoring found the rattle sound to be quite annoying. I believe that if I deployed this in an actual emergency as my main distress signal that my chances of being seen and saved would be slim.
50 out of 77 people found this review helpful. Did you find this review helpful? Yes / No
*Product images are for illustration purposes only and may not be an exact representation of the item. Please refer to item description.