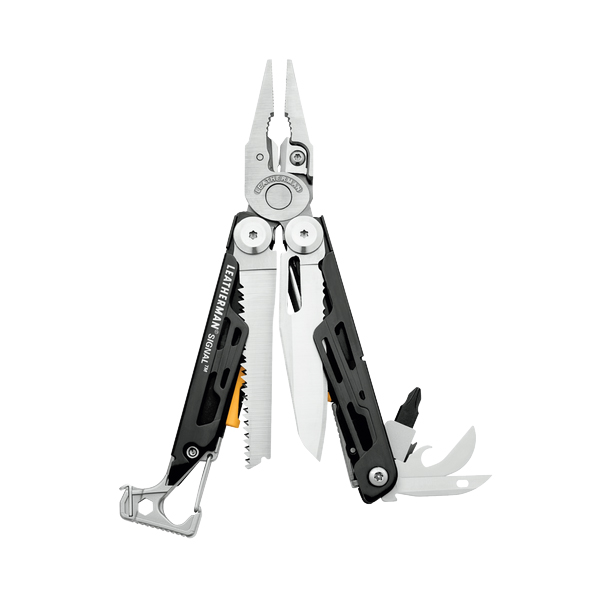 LEATHERMAN SIGNAL MULTIPURPOSE PLIERS, W/ BLK NYLON SHEATH 19 TOOLS
Brand:
Part Number:

LTM-832261
HM Order #: 774852
The stainless steel Leatherman Signal Multi-Tool with a black nylon sheath helps you take on the great outdoors with an array of tools you'd expect to see in a multi-tool plus more camping/preparedness/survival-minded ones like a sharpener for maintaining your knife edge in the field, a ferro rod for fire starting, and an emergency whistle. All of the tools can be opened and used single-handed for easy convenience, and its knife and saw blades can be opened from the outside without having to open the handles so it works more like a conventional pocket knife while providing a beefier handle while you're using it. For additional safety, all the tools lock in place so they won't accidentally close while in use. This version of the Signal is offered here complete and ready to go in clamshell packaging.
Tools
Needle-nose pliers: Perfect for holding small objects or using the pliers in tight, narrow spaces
Regular pliers: Conveniently hold and manipulate items
Regular-gauge wire cutters: Easily cut through regular and light-gauge wire; replaceable if they wear down
Hard wire cutters: Cut thicker, heavier-gauge electrical hard wires; also replaceable
Wire stripper: Safely remove the outer insulation from multiple gauges and types of wire
420HC knife blade: Partially serrated to allow you to perform an array of cutting tasks, including cordage and meal prep
Saw: Break down twigs and tinder or make tent stakes with this open-toothed cutting tool
Hammer: Drive tent stakes, nails, or other things; the textured end reduces slippage
Awl: Puncture tough materials like leather and canvas tarps to create or enlarge holes and sew with the integrated thread loop
Can opener: Safely and easily open canned goods
Bottle opener: Pop open your favorite beverage
Hex bit driver: Insert a 1/4" hex bit into this slot to customize your multi-tool from flat head or Phillips screwdriver tips to Torx to nut drivers
Bit driver: Includes #1-2 and 3/16" Phillips-tip screwdriver; other configurations available separately for customization
Box wrench #1: Tighten and loosen 1/4" hexagonal head nuts or bolts
Box wrench #2: Tighten and loosen 3/16" hexagonal head nuts or bolts Carabiner: Securely clip the multi-tool to belt loops or straps and other non-load-bearing things
Safety whistle: Attract help, signal to your partner, or mark your location in an emergency situation
Ferrocerium rod: Quickly and easily create sparks to start fires using this rod and a knife, rock, or just about any hard material
Diamond-coated sharpener: Precisely sharpen hard steel blades
*Product images are for illustration purposes only and may not be an exact representation of the item. Please refer to item description.