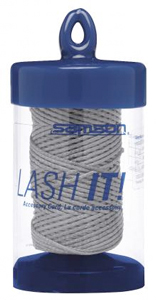 LASH IT ROPE 1.75MM X180' GREY
Brand:
Part Number:

SAM-LASH-IT
HM Order #: 745130
Designed to meet the various strength, stretch, knot-holding and wear requirements of integrated trawl net sections or seine net designs. Made from HMPE fiber, this twine yields the highest strength, lightest weight, lowest stretch and longest wear life available. The proprietary urethane coating, Samthane, adds to the twine's wear life, ensures the knot holding capability of the twine, and gives the twine its distinctive grey color. - Size 1-3/4mm x 180'
*Product images are for illustration purposes only and may not be an exact representation of the item. Please refer to item description.