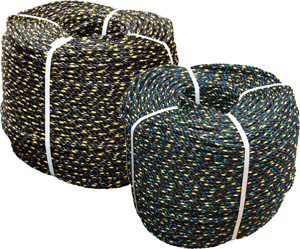 HYLINER FLOATING POLY POT WARP 3/8" MULTI COLOR (BY/POUND)
Brand:
Part Number:

HMP-HYPP38MUTI
HM Order #: 746529
Hyliner polypropylene floating pot warp. 12 thread, 3/8". Miscellaneous colors. This rope is constructed using mill ends from the manufacturer to create an inexpensive floating rope. Sold by the pound in full coils only. Coil is approximately 50lbs. and 1200-1400 feet. When ordering potwarp please order 50lbs. per coil and we will adjust your order according to the specific weight of the coil.
*Product images are for illustration purposes only and may not be an exact representation of the item. Please refer to item description.