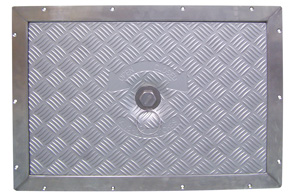 HATCH ALUMINUM RECTANGLE 20"X30"QUICK RELEASE LOCK *D*

Brand:
Part Number:

HM-H2030A-QR
HM Order #: 170650
Anchor 20?X30? Rectangular Quick Release Aluminum Hatch with Stainless Steel Ring This hatch is made from 1/4? thick marine grade aluminum and has a stainless steel flange and dogging mechanism. It features a water tight seal and anti-slip surface. It also has a built in self draining gutter system and a tension adjustable locking mechanism. The hatch mounts flush on the deck. It has a clear opening of 17?x27?, a deck cutout of 20.5?x30.5? and the OD of the deck flange is 23.5?x33.5?. You can purchase a handle kit that allows you to open the hatch from the inside ( HM-H-HANDLE-QR). This requires a wrench to open, HM-H-WRENCH-QR (item is sold separately).
*Product images are for illustration purposes only and may not be an exact representation of the item. Please refer to item description.