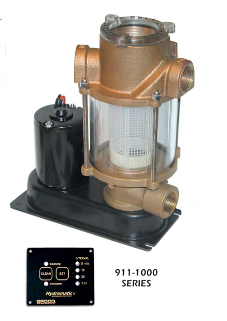 GROCO STRAINER HYDROMATIC SELF-CLEANING FOR SMALL ENGINES 24 VOLT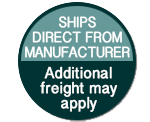 Availability:

Backordered
Brand:

Groco
Part Number:

GRO-911-100024
HM Order #: 739933
Groco Strainer Hydromatic Self-Cleaning for Small Engines 24 volt is intended to provide filtered water to a single-consumer (air conditioning system, Gen-Set, small engine for example). It has 1 NPT ports for raw water-in, filtered water-out and macerated debris discharge. Self-Cleaning. - Also available in other sizes.

*A 30-second cleaning cycle is automatically performed at user-selected intervals.
*Optional interface with SSA system initiates cleaning cycle when flow is reduced, independent of the pre-set cleaning interval.
*The "Purge" option over-rides the selected cleaning interval and performs a one-time 30-second cleaning cycle.
*Powerful macerator grinds debris and discharges overboard below the waterline.
*"Ignition Protected" motors for DC models.
*Installation can be horizontal or vertical (flooded inlet required) *C84400 bronze construction.
*Product images are for illustration purposes only and may not be an exact representation of the item. Please refer to item description.