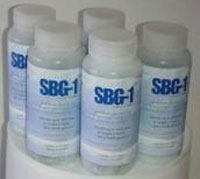 GEL SOLIDIFYING FOR USE WITH THE THRONE 8 OZ *D*
Brand:
Part Number:

EGI-SBG1-8
HM Order #: 170463
Solidifying BlueIce Gel. Absorbs 1000 times its weight in liquid and solid waste. Patented X14 deodorizer absolutely eliminates any trace of odor. SBG1 is the leading additive for waterless toilets, commodes and portable facilities. There is simply nothing like it anywhere! Great for Boaters and Campers. . . Excellent for Home Health Care. Approved for disposal in a dry landfill, or it can be safely flushed down a traditional toilet drain. A little goes a long way! Boaters love it because it eliminates splash. . . and smells great too!
*Product images are for illustration purposes only and may not be an exact representation of the item. Please refer to item description.