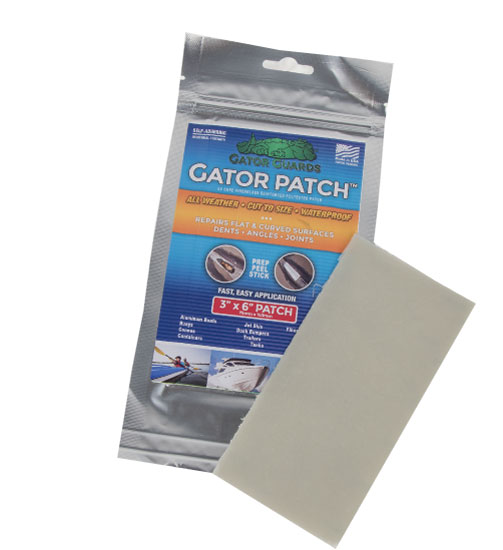 GATOR PATCH 3"X6" SELF ADHERING REPAIR PATCH
Quantity Available:

In Stock
Brand:

Gator Guards
Part Number:

GAT-GP-36
HM Order #: 778282
Gator Patch is a UV Cure Fiberglass Reinforced Repair Patch
Watertight, Impenetrable Repair Patch, Kayak Keel Guard, and Skid Plate
A Prep-Peel-Stick application that cures simply with UV light in under an hour
Will bond to metal, fiberglass, wood, plastic and virtually anywhere you need protection
Repairs almost any surface, moldable around flat or curved areas, dents, joints, or angles
Perfect in or out of the water! Great for any Fiberglass or Aluminum Boat, Kayaks, Canoes, Containers, Tanks, Plumbing, and more!
Can be drilled, tapped, sanded, or painted within an hour
Hulls weighing over 100 pounds - such as Bass Hunter style boats or larger kayaks may benefit from additional layers of Gator Patch to increase the thickness of the most heavily worn areas for a longer lifespan.
*Product images are for illustration purposes only and may not be an exact representation of the item. Please refer to item description.