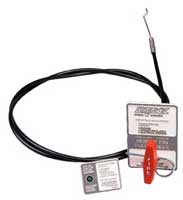 FIRE EXT DISCHARGE CABLE
Manual Discharge Cable. For MA2 series units only . Easily routed with engine cables. Each kit includes: cable, Escutcheon plate, Indicator lamp, pull handle and Safety pin & safety tie.

*Product images are for illustration purposes only and may not be an exact representation of the item. Please refer to item description.

Denotes a non-stock item. These items are not regularly stocked in our store locations and may require extra time to arrive from our supplier(s) and incur incoming freight.