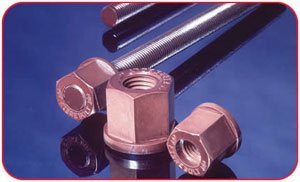 FIBERGLASS STUDS 3/8" 4' LENGTH
Brand:
Part Number:

SGW-STD.38
HM Order #: 748587
Strongwell Fibrebolt STD.38 Fiberglass Stud, 3/8", 4' Long. Consists of a pultruded stud with threads cut in a glass mat reinforced outer layer (the center of the stud is unidirectionally reinforced for high strength). It does not possess the thread shear strength of steel, but has sufficient strength to be a viable alternative in structures where fastener corrosion is a concern or where metal fasteners are not permitted (antennae housings, computer equipment testing structures, etc.). Corrosion resistant, easy to fabricate, low maintenance, low in conductivity, transparent to electromagnetic waves and the color blends with most structural materials.
*Product images are for illustration purposes only and may not be an exact representation of the item. Please refer to item description.