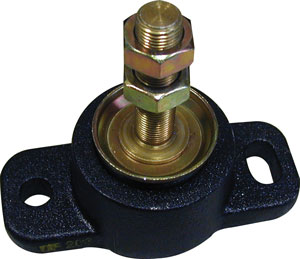 ENGINE MOUNT UP TO 800 LB T/ENGINE WEIGHT WITH 4 MOUNT SYSTEM.
Brand:

Barr Marine
Part Number:

BAR-DF-206
HM Order #: 126012
ENGINE MOUNT UP TO 800 LBS TOTAL ENGINE WEIGHT WITH 4 MOUNT SYSTEM - Adjustable Anti-Vibration Engine Mounts Specifically designed to withstand temperature extremes and prolonged exposure to salt, atmoshpere, oil and grease. Designed to cushion under normal loads. No metal to metal contact at any point over the weight range, eliminating any danger of excessive impact. Mounts have a one inch vertical adjustment using two hex jam nuts. The mounting bolt centers are 4. Engine Weight: 500-850, Base: 5-1/4, Width: 2-5/8, Height: 4-1/4, Thread: 5/8-18
*Product images are for illustration purposes only and may not be an exact representation of the item. Please refer to item description.