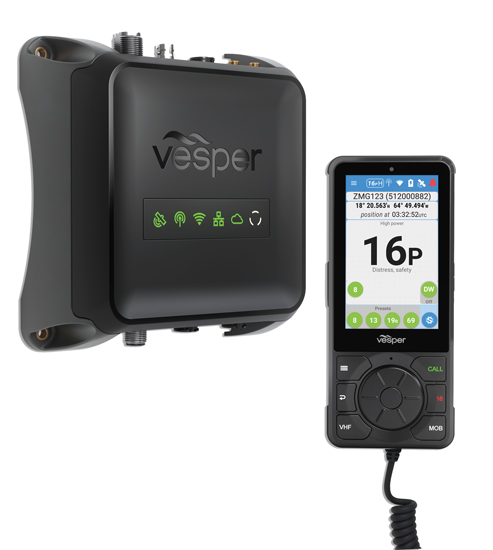 CORTEX VHF/AIS/MONITOR W/TETHERED HANDSET
For the Class B Programming Form, click here!
Brand:

Vesper Marine Inc
Part Number:

VSP-CORTEXV1
HM Order #: 775304
This is an advanced multi-station VHF with intuitive touchscreen operation. Full Class B SOTDMA with smartAIS send and receive and integrated no-loss splitter. Monitor and control onboard systems and keep alerted on board or ashore from your smartphone.

Cortex V1 VHF radio has been advanced as a multi-station VHF with intuitive touchscreen operation, built in SOTDMA with smartAIS and out-of-the box monitoring and control on board your boat or ashore.

Cortex V1 VHF radio combines Cortex M1 full Class B SOTDMA smartAIS with Cortex H1 Tethered Handset to provide full VHF functionality. Optionally add H1P Portable Handsets for even greater freedom on board.

VHF Reimagined
Cortex is a revolution in marine technology that will change the VHF experience with an intuitive touchscreen engineered to withstand the rigours of the harsh marine environment.

The power of VHF and AIS combined
Cortex is the world's first VHF with high speed SOTDMA AIS transponder technology, making your boat visible to others. A built-in heading sensor tells other vessels your direction, helping them more accurately predict potential collisions. See critical information about vessels, AIS Aids to Navigation and man overboard devices on your MFD, mobile or Cortex handset.

Collision Avoidance & One-touch DSC
Cortex continuously calculates collision risk and warns you with voice annunciated alerts. View crossing situations, navigation light sectors and perform trial maneuvers while talking on the VHF radio. Initiate direct calls (DSC) with other vessels by simply tapping the vessel on your handset touchscreen. Push to talk to quickly hail another vessel when every second counts.

Monitor
Cortex combines built-in sensors, external sensor inputs and NMEA 2000 connectivity with free basic monitoring. Using cloud connectivity, you can view twice-daily updates of power, location, wind, depth, bilge, temperature and more on your smartphone.

The Cortex Monitor Premium subscription unlocks real-time vessel status, instant alerts and device control for boat systems like refrigerators, icemakers, lights or heaters.

Anchor Watch on board and ashore
By combining your position and heading, Cortex will determine if your anchor drags. If your boat moves outside your anchor swing radius the alarm will sound on Cortex handsets, connected speaker and your smartphone. Receive alerts while ashore via the Cortex Monitor App on your smartphone.

NMEA 2000 Gateway
Translates NMEA 2000 instrument data (heading, wind, depth, speed, log, temperature) and routes to mobile devices over WiFi, USB or NMEA 0183 for supporting plotters



Includes M1 hub, tethered H1 handset and accessories
Built-in Class B SOTDMA with no-loss antenna splitter
Built-in WiFi and Cellular connectivity on monitoring on board and ashore Low power consumption hub
10Hz GPS antenna
4-inch multi-touch display with gorilla glass for maximum durability
Single hand operation with click wheel and dedicated buttons
Wet and glove capable touchscreen
Optically bonded display for wide-angle and sunlight viewability, even in the harshest midday sun
85 dBA of crystal-clear audio
Combined AIS and VHF display with voiced alerts
Touch a vessel onscreen for direct calling (DSC)




Cortex Demonstration: Handset Core Functions from Vesper Marine on Vimeo.
*Product images are for illustration purposes only and may not be an exact representation of the item. Please refer to item description.