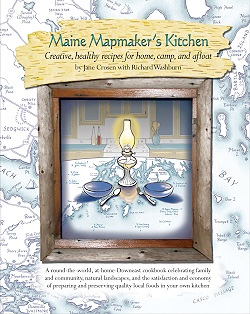 COOKBOOK MAINE MAPMAKERS KITCHEN BY JANE CROSEN
Brand:
Part Number:

JCM-976403
HM Order #: 732272
The best of the repertoire of a Maine couple who enjoy cooking together, this collection of 350 favorite recipes includes a harvest of down-to-earth home economies, food-related reveries, and camp-kitchen wisdom. Drawing on food traditions and cuisines from Downeast and around the world, Maine Mapmaker's Kitchen speaks to creative cooks, home gardeners, and anyone who enjoys eating well at home, camp, and on waterborne adventures. The recipes, featuring natural and local ingredients, are complemented by practical sidebars on growing, harvesting, preserving, and preparing food. Like symbols on a map, four recipe icons highlight whether a dish is camp-friendly, vegetarian, recyclable, or a chance to use up
*Product images are for illustration purposes only and may not be an exact representation of the item. Please refer to item description.