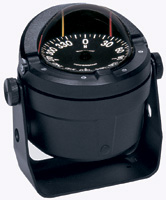 COMPASS HELMSMAN BRACKET MOUNT FLAT CARD 3.75"

Brand:

Ritchie Navigation
Part Number:

RIT-HB740
HM Order #: 128629
Ritchie HB740 Helmsman black flat card bracket mount compass. Accurate, powerful and affordable. Choice of 3 3/4 direct read or power damp dials, combined with the finest scientifically matched jewels and pivots, built in compensators and full internal gimbals. Fiberglass reinforced Valox for durability. Built-in night lighting. A movable sun shield blocks the sun's glare. All compasses are 100% repairable. Carries Ritchie's exclusive 3 year warranty. Available in black or white models.
*Product images are for illustration purposes only and may not be an exact representation of the item. Please refer to item description.