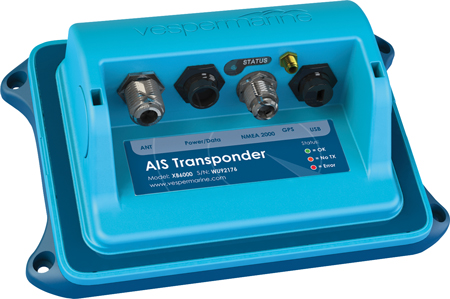 CLASS B AIS TRANSPONDER NMEA GATEWAY BUILT IN GPS ANTENNA
For the Class B Programming Form, click here!

Brand:

Vesper Marine Inc
Part Number:

VSP-XB6000
HM Order #: 767681
Vesper Marine WatchMate XB-6000 High Performance AIS Transponder with Built-in NMEA 2000 Gateway

The Vesper Marine WatchMate WatchMate XB-6000 High Performance Class B AIS Transponder
Unlike any other AIS the high performance Class B AIS with built-in NMEA 2000 gateway and internal GPS, XB-6000 integrates AIS, GPS and NMEA information so that you can see your safety and navigation on any AIS-capable chart plotter or MFD. Or use your PC and Mac for easy computer navigation. Easily integrate AIS to your existing marine electronics and convert NMEA 2000 & 0183 instrument data to USB, facilitating 3rd party navigation software.

Features:
o NMEA 2000 / 0183 and waterproof USB
o Compatible with all NMEA 2000 certified chart plotters and MFD's
o The only AIS transponder that can be used as a GPS source for NMEA 2000 o Fast 5Hz GPS update rate provides greater detail and higher resolution plotting
o Can be put in Silent Mode (receive-only) o Includes 50 channel GPS with WAAS/EGNOS and powerful external GPS antenna
o Built-in internal GPS antenna allows for easy installation when the XB-6000 has a view of the sky. Perfect for small vessels
o Galvanic isolated USB and NMEA ports protects the transponder and your other equipment against damage and installation problems
*Product images are for illustration purposes only and may not be an exact representation of the item. Please refer to item description.