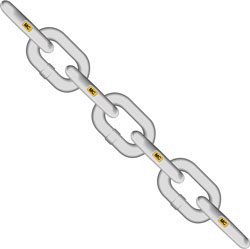 CHAIN MOORING HOT GALV PACKAGED LENGTHS
High strength mooring chain, Acco is longer & stronger! Oversize link diameter equals longer chain life. Diameters actually exceed their nominal size! For example: 1/2 Acco mooring chain uses . 531 inch diameter. This means a stronger, longer-lasting mooring for your boat. Compare Acco specs to other chains and see the difference. Long oversized links, hot galvanized. Simplifies mooring construction. Long-links allows you to reduce the number of shackles and attach them anywhere on the chain. Embossed M3. Made in the USA!
*Product images are for illustration purposes only and may not be an exact representation of the item. Please refer to item description.

Denotes a non-stock item. These items are not regularly stocked in our store locations and may require extra time to arrive from our supplier(s) and incur incoming freight.