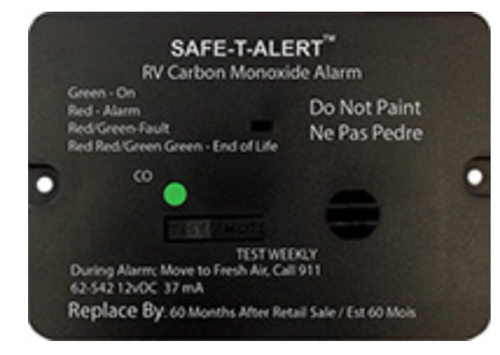 CARBON MONOXIDE ALARM FLUSH MOUNT BLACK 12V
Brand:
Part Number:

SAT-62542B12
HM Order #: 763299
Space Saving. Compact design for RV's.
Designed for the Rugged RV Environment. Ideal for Class A Motor homes, Class B Van Campers, Class C Mini-Motor Homes, Travel Trailers, Fifth Wheels, Truck & Folding Campers.
Advanced Technology. Alarm Mute button silences alarm while RV is ventilated. Rapid recovery sensor resets when silenced or reactivates alarm if dangerous levels of CO remain.
Memory Scan(TM). Retains the CO level that activated the alarm. After ventilation, it is impossible to know what the CO level was unless your detector has memory.
Reliable. 12 Volt power means no missing or dead batteries to replace.
Micro Current Technology. Saves battery power.
Durable. Built for the extreme RV environment.
Approved. Meets RVIA/NFPA requirements.
62 Series Flush Mount Operating Specifications
Conforms To ANSI / UL STD 2034*
* Testing Laboratory: ETL/Intertek
Alarm Point: 400 PPM 4-15 Minutes
Low voltage power warning at 7 Volts
Power Supply and Current Draw: 37 mA @ 12.0 VDC
Operational Range: 12.0 Volts +/-15%
Low voltage power warning at 7 Volts
Operating Temperature: -40?F to +158?F
Case Size: 4.5"W x 3.25"H x 1.25"D
*Product images are for illustration purposes only and may not be an exact representation of the item. Please refer to item description.