BREAKAWAY LINKS & LINE ORANGE
Breakaway Link provides a low break strength component to vertical fishing lines designed to reduce the severity of whale entanglements. Links have a break strength under 1700lbs and work seamlessly in pot haulers.
Made from hollow core braided polypropylene, the link works like a toy finger puzzle. It grips inserted pot warp in each end of the link, holding the rope firmly when deployed.

Available in:
3/8" Orange with red fleck 1000ft Reel and 6ft in packages of 48 each.
1/2" Orange with blue fleck 600ft Reel and 6ft in packages of 48 each.

Features:
1700 lb Break Strength
Smooth Operation in Pot Haulers
Two Sizes Available 3/8" and 1/2"
Installs in Minutes
Suitable for Rope 5/16"-1/2" Diameter

Learn more about Breakaway links and how to install them in the video below!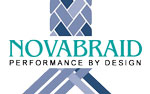 *Product images are for illustration purposes only and may not be an exact representation of the item. Please refer to item description.

Denotes a non-stock item. These items are not regularly stocked in our store locations and may require extra time to arrive from our supplier(s) and incur incoming freight.