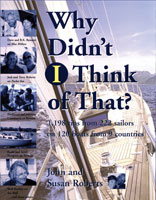 BOOK WHY DIDN'T I THINK OF THAT
Brand:
Part Number:

BK-0070532214
HM Order #: 120079
Why Didn't I Think of That? By John & Susan Roberts. This book brings together the lessons learned, the tested advice, and the ingenious solutions of more than 200 sailors from around the world. Nearly 1200 tips on everything from anchors to bilge pumps, refrigeration to communication, food preparation to handy gadgets, finding just the right tool to weathering the weather, and cruising with children to making your boat a secure and comfortable home.
*Product images are for illustration purposes only and may not be an exact representation of the item. Please refer to item description.