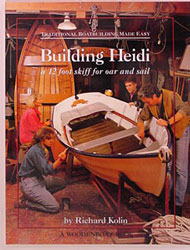 BOOK TRADITIONAL BOATBLDG BUILDING HEIDI
Brand:
Part Number:

BK-9780937822401
HM Order #: 152426
Richard Kolin This book was written to take the first-time builder step by step through the building of Heidi, a traditional 12-foot skiff designed to eliminate or simplify most of the cranky elements of skiff construction. What's required: a basic knowledge of tools, a few tools to start with, and a place to build. Written by the designer of the boat, an expert boatbuilder who has dedicated his time to teaching amateurs how to build boats, this book takes you through the construction steps in carefully considered detail.
*Product images are for illustration purposes only and may not be an exact representation of the item. Please refer to item description.