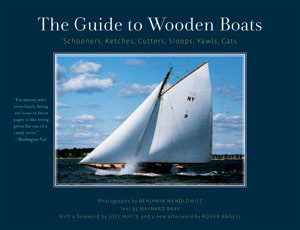 BOOK THE GUIDE TO WOODEN BOATS
Brand:
Part Number:

BK-0393338065
HM Order #: 755560
The Guide to Wooden Boats: SCHOONERS, KETCHES, CUTTERS, SLOOPS, YAWLS, CATS Benjamin Mendlowitz (Author), Maynard Bray (Text by) With a Foreword by Joel White, With an Afterword by Roger Angell. Being set loose in these pages is like being given the run of a candy store. Washington Post Book World First published in 1996, this classic pictorial tour of wooden boats showcases a rich collection of images by Benjamin Mendlowitz, the preeminent photographer of wooden boats. The result is a stunning guide to sailboats and their rigs with text by the renowned marine historian Maynard Bray a true feast for the eyes as well as the imagination. Now available for the first time as a paperback edition, complete with Joel White s foreword and a new afterword by sailor and writer Roger Angell, this gem of a book is sure to delight both lifelong boaters and newcomers to the nautical world.
*Product images are for illustration purposes only and may not be an exact representation of the item. Please refer to item description.