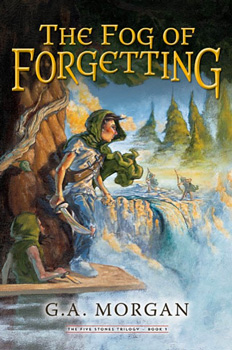 BOOK THE FOG OF FORGETING BY G A MORGAN BOOK #1
Part Number:

BK-1939017239
HM Order #: 754291
The Fog of Forgetting (Book 1 in The Five Stones Trilogy) written by G.A. Morgan. Chase weighed the pros and cons: This was beyond breaking the rules. But if they stayed right in front of the house, what could go wrong? Chase Thompson didn t think of himself as brave, or even bold. It was his brother Knox s idea to take the boat out while their parents were away. But Chase wasn t about to let him take their little brother Teddy, and Frankie and Evelyn, two girls they d just met, out on the open ocean without him. Then the fog rolled in.
Now they re stranded on a veiled island called Ayda, forced to trust a machete- toting wayfarer named Seaborne. Swept up in another time, another place. Caught in the middle of a bitter struggle between the rulers of Ayda s four ancient realms. Each harbors a stone of power, but the Fifth Stone, the mightiest of all, is missing and so is Frankie. Kidnapped by a terrible foe, she is being used as a pawn in the battle for the stones of Ayda. Chase will need to find both bravery and boldness, and learn to harness the mysterious powers that pulse through the island, in
order to rescue Frankie and lead the others back home.