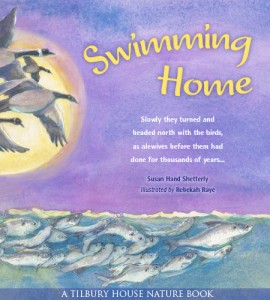 BOOK SWIMMING HOME BY SUSAN HAND HETTERLY
Brand:
Part Number:

BK-0884483540
HM Order #: 757004
In SWIMMING HOME, by Susan Shetterly, the story follows a school of fish (river herring, or alewives) on a journey of hundreds of miles, escaping porpoises, seals, eagles, and herons. Swimming Home is also the moving story of a boy and his father who see the fish stopped just short of their goal by a new road, and transport them across the last hundred feet. The Tilbury House Nature Book series brings the natural world to life for young readers without anthropomorphizing animals. Each book aims for the
highest standards of scientific accuracy and storytelling magic. Ages: 6-11
*Product images are for illustration purposes only and may not be an exact representation of the item. Please refer to item description.