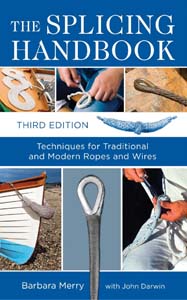 BOOK SPLICING HANDBOOK MODERN/TRAD ROPES 3RD ED
Brand:
Part Number:

BK-IM44
HM Order #: 739005
The only reference devoted entirely to splicing today's ropes - The Splicing Handbook includes step-by-step illustrations and explanations for the most useful and popular splices in traditional twisted and modern braided ropes, and it covers every kind of splicing project you are likely to encounter, including modern cordage such as Spectra; mainstream rope materials such as Dacron and nylon; and wire and rope-to-wire splices. - Covers all the standard rope constructions using Dacron and nylon, including solid braid, double braid, parallel core, plaited, and three-strand Explains how to splice wire for sailboat shrouds and halyards Shows how to make a broad range of useful onboard projects--and several that will find uses
*Product images are for illustration purposes only and may not be an exact representation of the item. Please refer to item description.