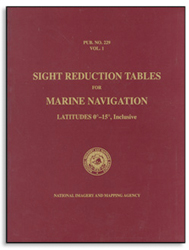 BOOK SIGHT RED TABLE VOL3 MARINE NAV LAT 30-45
Brand:
Part Number:

BK-CEL004
HM Order #: 151041
Latitudes 30 - 45 , Inclusive. The Sight Reduction Tables for Marine Navigation (Pub 229) is published in six volumes, each of which contains two-eight degree zones of latitude with a one-degree overlap between volumes. They are designed to facilitate the practice of celestial navigation at sea. The tables are primarily used with the intercept method of sight reduction by entering arguments of latitude, declination, and local hour angle and obtaining tabulated altitudes and azimuth angles. The tables are prepared and published by NIMA on an as-needed basis.
*Product images are for illustration purposes only and may not be an exact representation of the item. Please refer to item description.