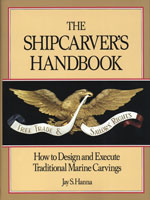 BOOK SHIPCARVER'S HANDBK BY JAY S HANNA
Brand:
Part Number:

BK-9780937822142
HM Order #: 144701
SHIPCARVERS HANDBOOK By Jay S Hanna. The classic text on carving stern boards, billet heads, trailboards, eagles, dolphins, rope borders, a variety of letter styles, and more. Learn design and lettering, set-up and carving techniques, woods, tools and sharpening.
*Product images are for illustration purposes only and may not be an exact representation of the item. Please refer to item description.